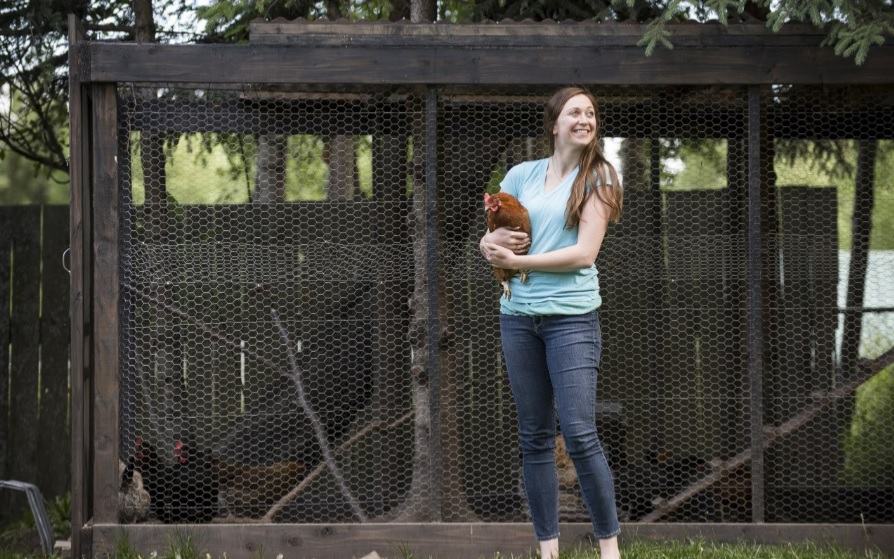 Oh, why hello there!
Hi – I'm Ashley, the "Alaska Urban Hippie," living in Anchorage, Alaska.
I didn't grow up with chickens or a vibrant organic vegetable garden or a backyard compost pile. Now as an adult, I'm taking the time to learn about where my food comes from and how to produce and preserve my own backyard harvest in a limited amount of urban space.
What does "urban hippie" mean?
To me, being an urban hippie means doing what you can, with what you can, and being more aware of our impact on the earth.
I try to recycle and compost what I can. I also try to buy local. I'm certainly not perfect, but I'm working on improving – not perfection. I'm not a seasoned pro, and I still find the squeal of a pressure canner unnerving, but I'm trying to lead a more natural, sustainable urban hippie lifestyle.
Watch me on YouTube
I love chickens, learning, and being goofy. I've found a happy home at YouTube.
If you want to watch videos of me running around in my yard with my chickens following, or learn my hippie hacks on how to get a stuck pressure canner lid open, you should probably subscribe to my channel. ;)
Find me on YouTube at youtube.com/c/alaskaurbanhippie 
Top 7 Most Popular Blog Posts: