In late July, we stumbled upon a seasonal clearance sale for edible perennial plants (meaning plants that come back every year).
We walked into the hardware store needing a part for a miscellaneous house project, and we walked out purchasing 2 apple trees, 1 sour cherry tree, 4 blueberry bushes, 8 strawberry plants & 5 haskap berry bushes.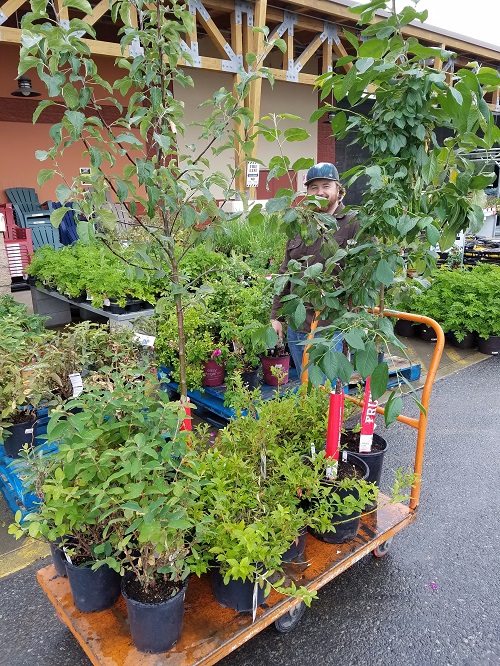 Honestly, we weren't sure exactly where they would all go. But it was a great deal, all of the fruit trees were Alaska winter hardy varieties, & we were confident we could find space in our Anchorage front yard.
We called it a late birthday present to both of us & were excited for the adventure/challenge.
Once we got the new edible trees & bushes home, we surveyed our space and took measurements to craft a plan.
Here's a 'before' photo of the front yard. We already had 4 fruit trees planted from 3 years ago.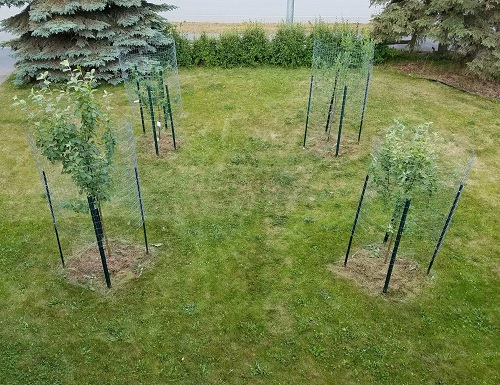 Brian came up with a plan for a raised garden bed in the center of the trees.
After buying lumber, he brought out his tools & started building a beautiful custom bed for the blueberries & strawberries.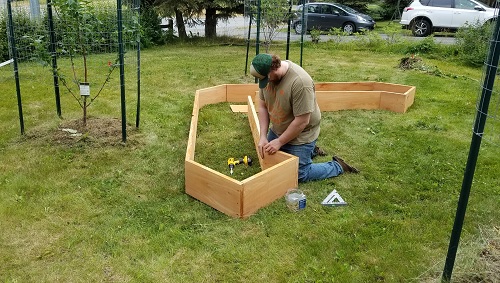 Once the frame of the raised berry bed was built out, we lined it with cardboard to help prevent weeds from growing up through the bottom.
After a layer of cardboard, we layered in organic potting soil & compost from our backyard hot compost heap.
It's always fun when a project arises that requires a large amount of compost. Seasoned compost is like brown gold in a garden bed – it's phenomenal natural fertilizer, plus it's free.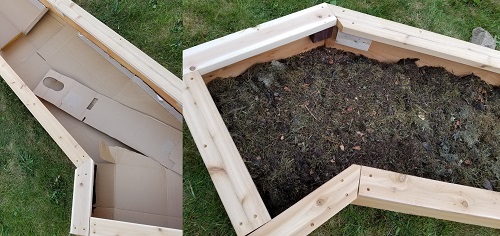 Between mixing it into the raised garden bed and mixing it into the new tree holes during planting, we used 4-5 wheelbarrows full of compost on our edible perennial landscaping project.
Once the new trees were in the ground (lots of digging deep holes, whew!), we brought out the berry bushes to start figuring out placement and what would fit best where.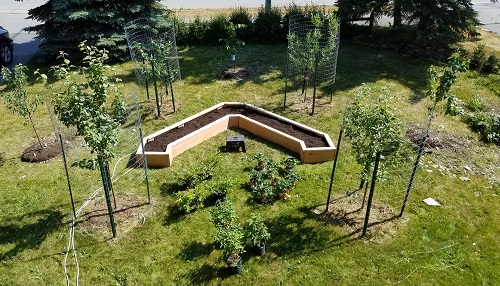 The blueberry & strawberry bushes we bought on a whim all fit pretty perfectly in their custom new cedar bed.
After we finished planting the haskap berries on the side of the yard, we were finally done – for this year, anyway. :)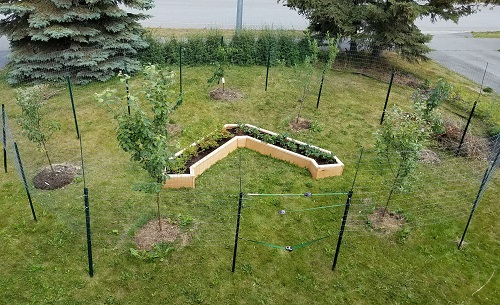 A month later, all of the perennials are still looking great. Nothing immediately died, which is a good start.
We noticed some sunburn on the apple & sour trees (= browning, sad leaves), but we realized afterward that those trees were kept indoors at the hardware store and we didn't slowly introduce them to their new direct-sun home, so some sunburn & light sensitivity makes sense. The trees weren't used to direct sunlight, unfortunately.
But they stayed alive & all of the new growth on those edible trees looks healthy – woohoo!