It was a beautiful Saturday morning in March in surprisingly sunny Anchorage, Alaska.
The Iditarod track made of leveled snow (freshly trucked in from Fairbanks, AK) was perfectly spread along Cordova Street, spanning the entire length and width of the road. Any other week of the year,  Cordova Street is a semi-well used street, passing through residential neighborhood and running straight north through downtown Anchorage.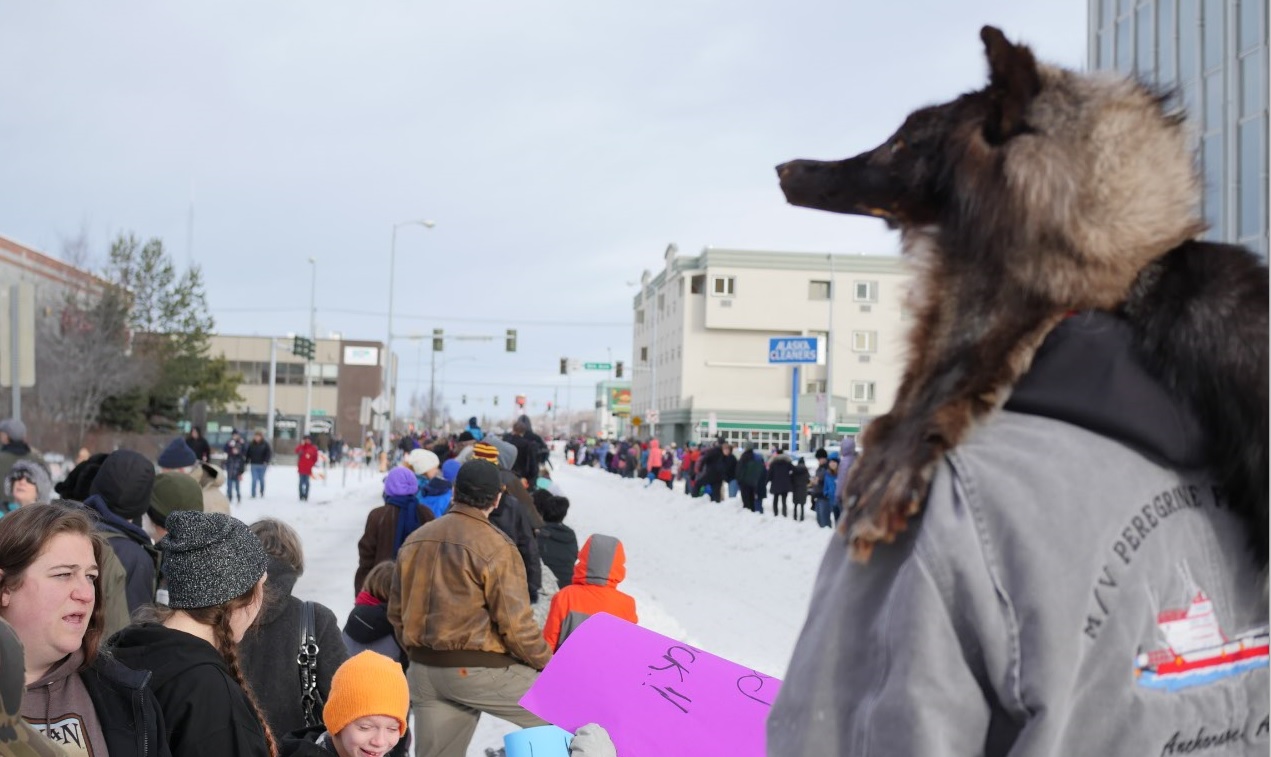 But for a week each year during the late winter/early spring Anchorage Fur Rendezvous celebrations (known by local Alaskans as "Fur Rondy") and the ceremonial Anchorage start of the Iditarod sled dog races, Cordova Street is closed to vehicles to make way for sled/canine traffic.
Anchorage local tip: Even though the Anchorage Iditarod event starts at a set time, there are usually between 70-90 mushers and sled dog teams that need to go through the downtown Anchorage trail. If you're an hour late, you're still right on time to see the sled dog action.
Before long, we saw a sled dog team approaching.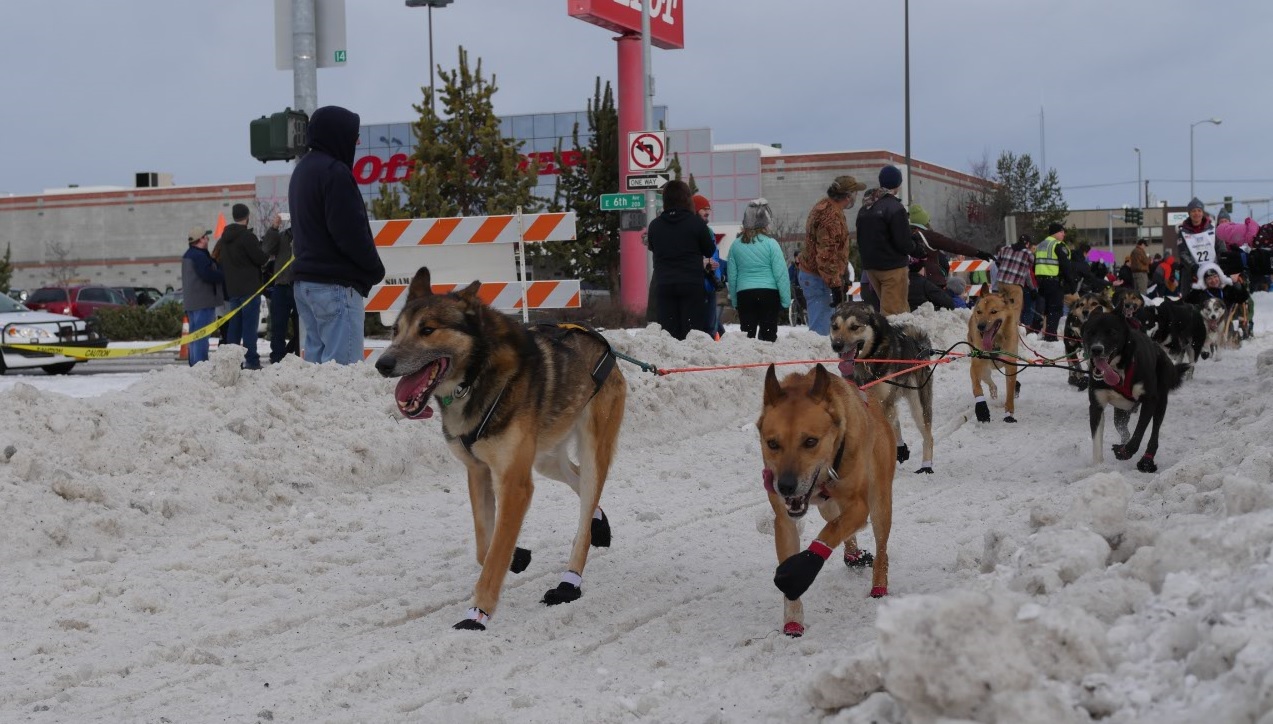 When mushers would pass, some people would chant "BOOTIES! BOOTIES!" and if the mushers felt that section of the crowd was worthy, the musher would toss out a handful of used sled dog booties, a.k.a. the small socks that are velcroed onto each dog's foot to protect them from snow and ice.
Here's me, holding two sled dog booties.
After having them in my possession for 20 minutes, I realized that – as an adult – keeping old, worn out dog shoes really isn't that important to me, so I dropped them back on the ground for children to find.
In addition to yelling "BOOTIES!", fans lining the Anchorage snow-street track put their hands out for passing mushers to high-five, cheering the teams onward.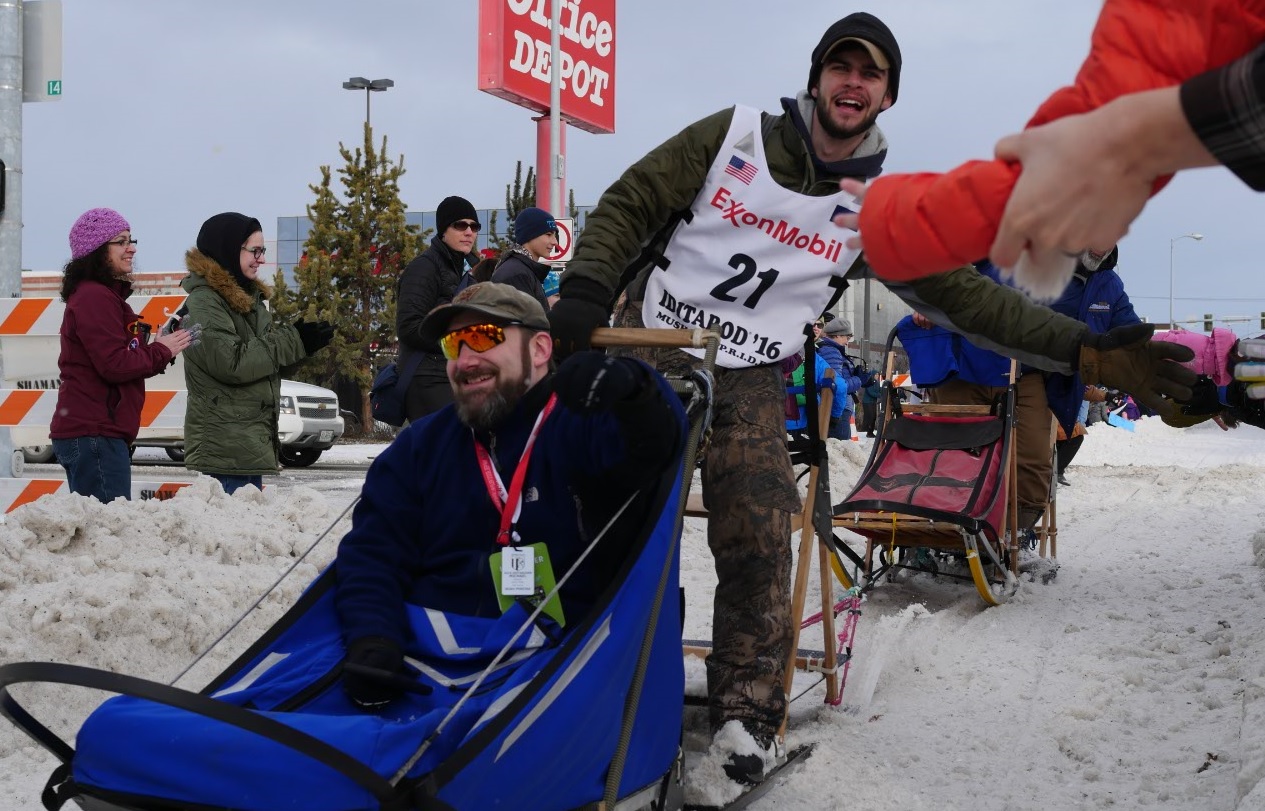 Whether you come alone or come with a group, since the Anchorage Iditarod trail start is miles long, if you're willing to walk a little ways, it's not hard to find a gap in the crowd so everyone can get a front-row view directly along the trail.
It also works well for gorgeous, up-close photo opps. Here are my newly Alaskan, newly engaged friends, CJ & Josh.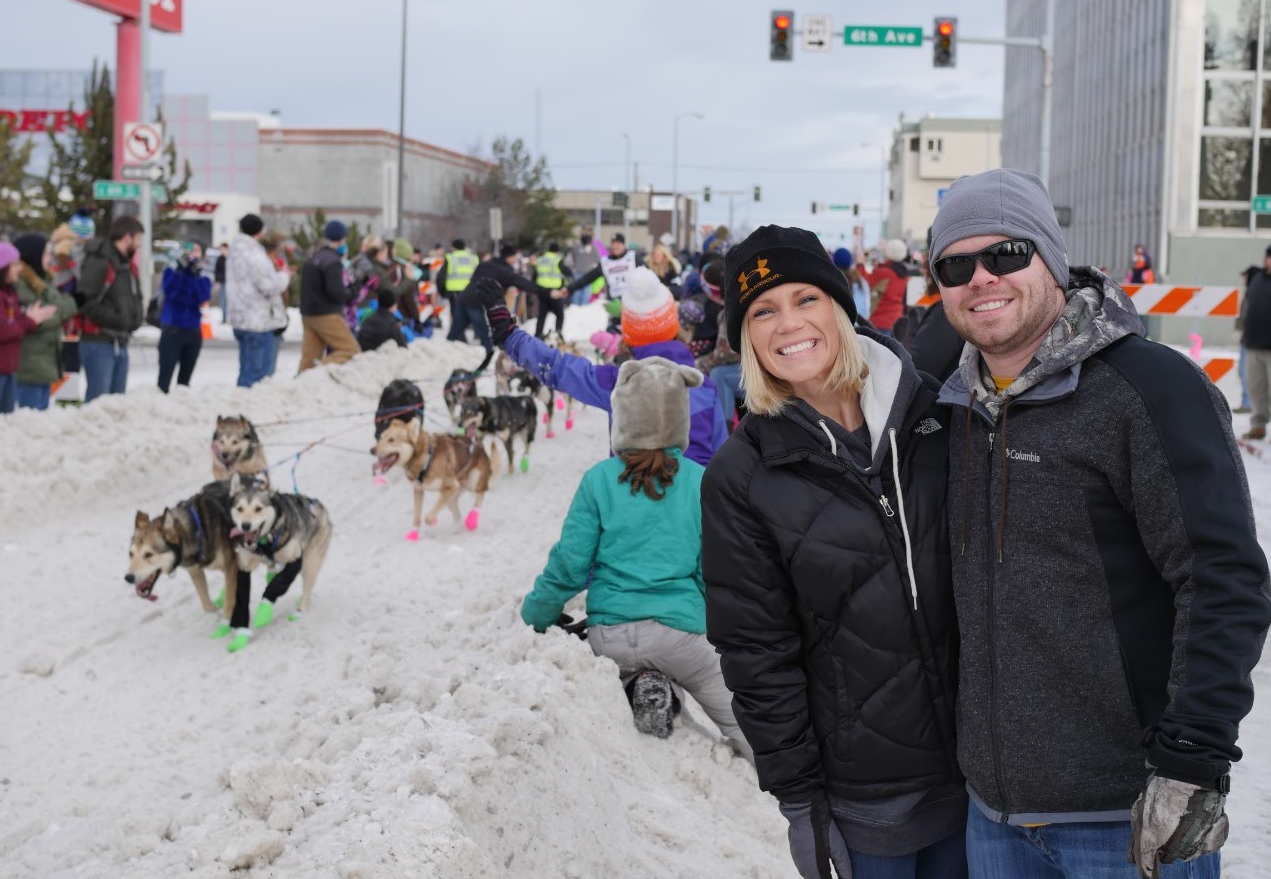 We stood on the corner of Cordova Street and 6th Avenue in downtown Anchorage, and although there was a small crowd of people in our area, nearly everyone had their own front-row view of the sled dogs coming by.
Walking downtown during winter Fur Rondy is an amazing experience and there's so much to see. If you're considering visiting Alaska in February/March, you should definitely build the Anchorage Iditarod ceremonial downtown start into your sightseeing plans!