If you're looking for a stunning fall hike that's right in Anchorage and offers prime Alaska berry picking, the Flattop hiking trails are impressive.
We hiked near the Powerline Access trail, just east of the main parking lot, in search of wild blueberries, crowberries and lowbush cranberries.
The first part of the walk was entirely picked over already; there was hardly a berry in sight. But within a 30-minute easy hike, my friend Charlotte and I were enjoying what felt like an entire untouched mountainside to ourselves. Berries galore!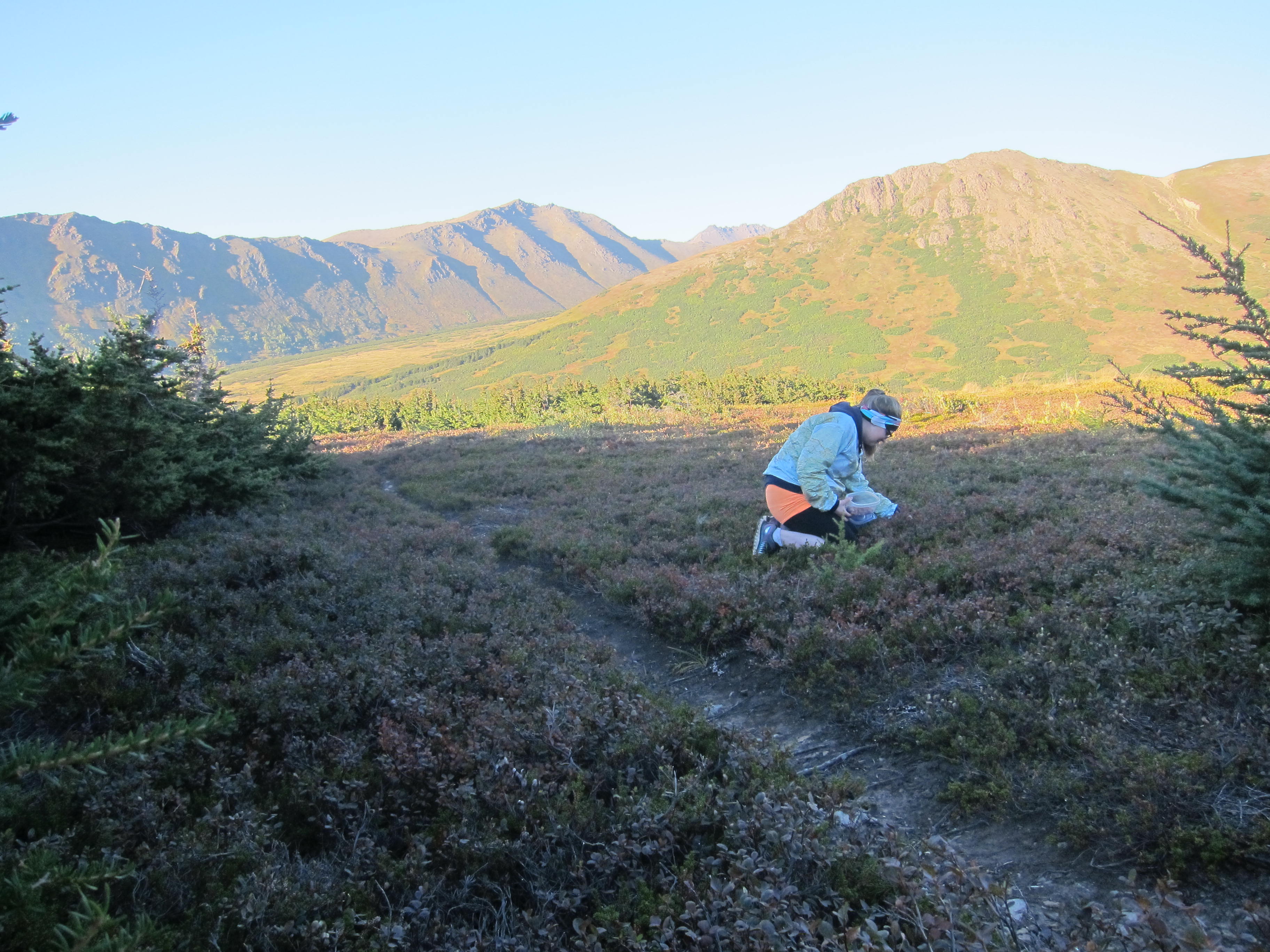 At our first location, we were on the hunt for wild Alaska blueberries, which are just as delicious as they sound. Here's the first handful of plump blueberries I found on the Flattop trail area.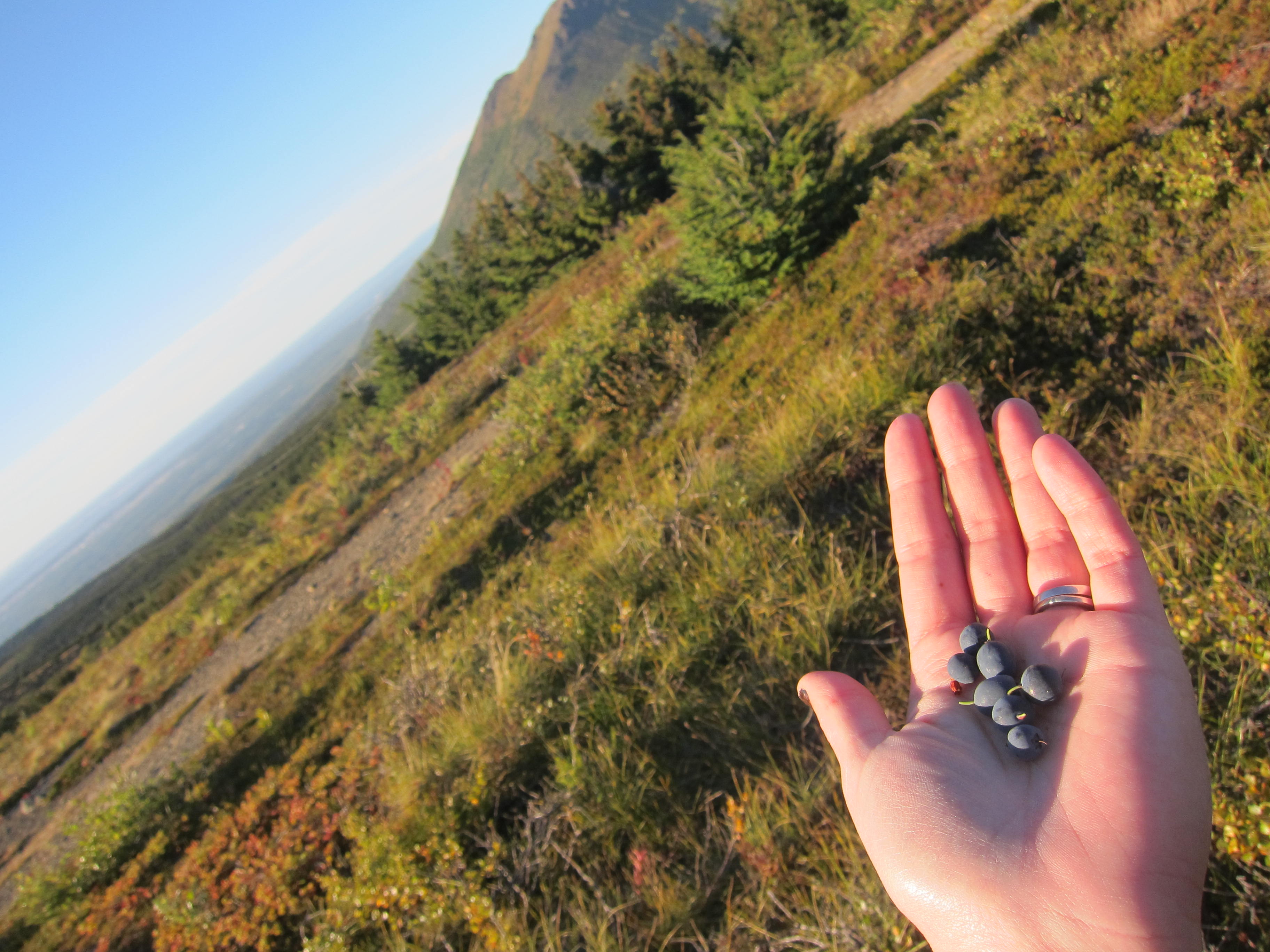 As the cool fall air whipped through our hair and nipped at our greedy berry-picking hands, we were cold but the incredible sight of Anchorage and the ocean in the distance made up for the temperature.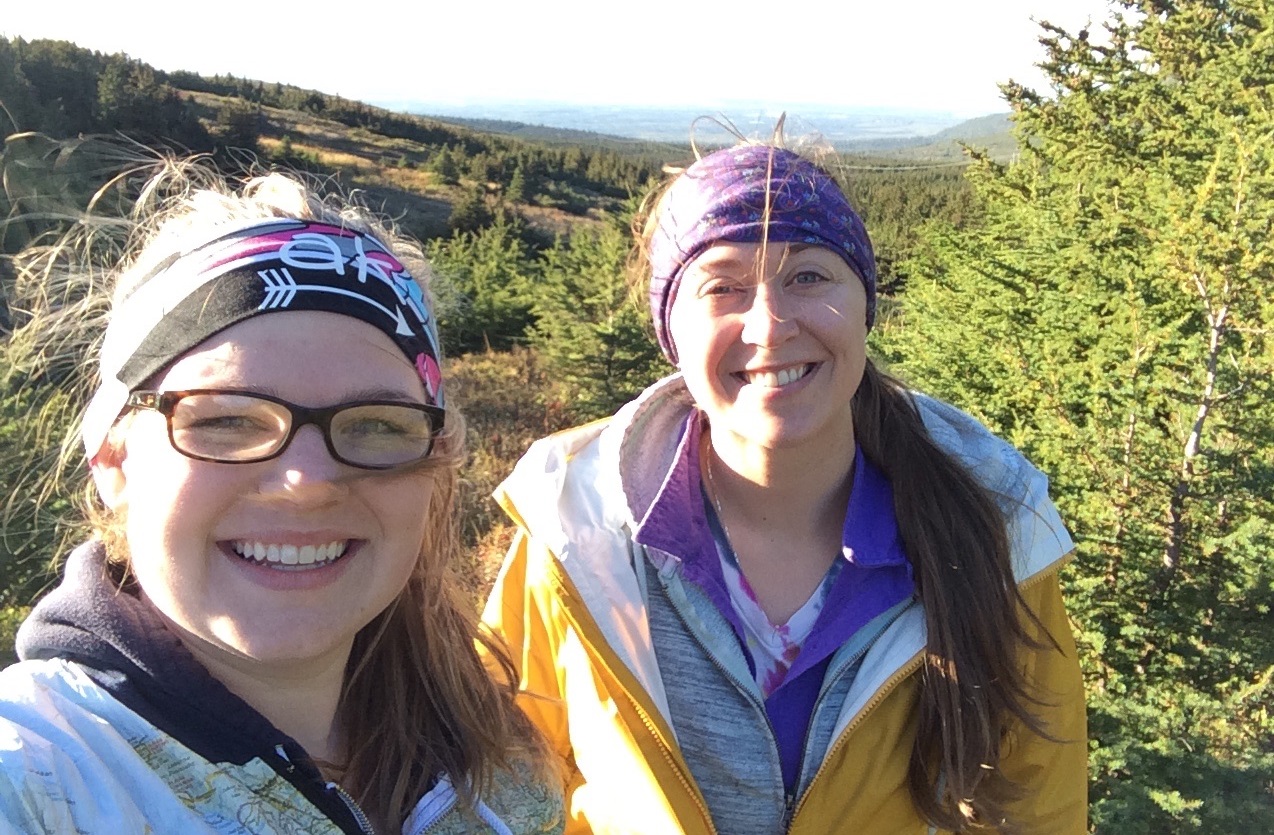 Here's a funky little double blueberry I picked. Siamese blueberry twins. (Please ignore my terrible, chipped black nailpolish – clearly I didn't prep well for my hand modeling debut.)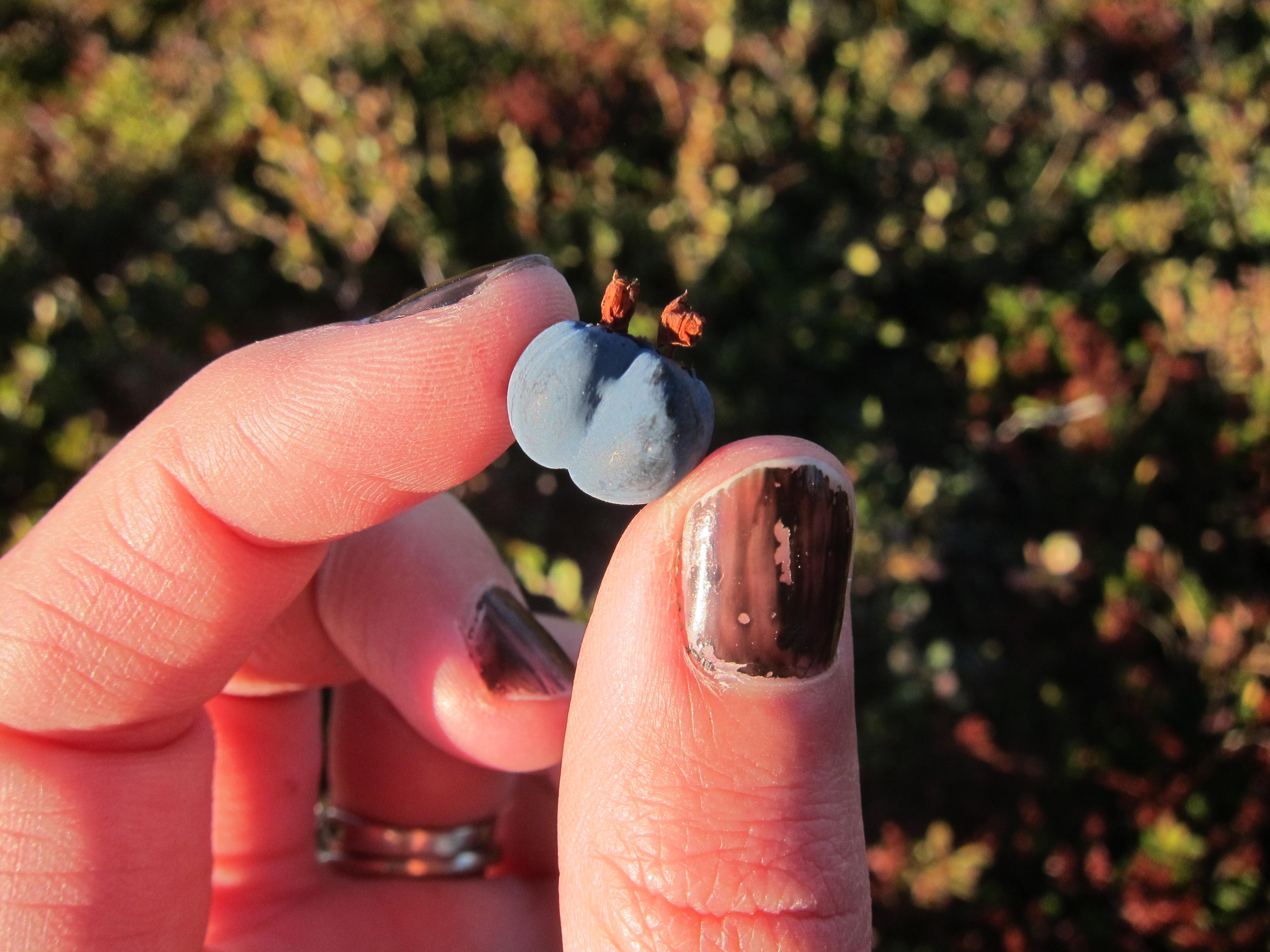 As I crouched down to pick a lovely patch of wild crowberries, I realized they were resting on a patch of moose berries. When you're picking Alaska berries on a hiking trail, you might not see another person for miles, but the occasional patch of moose poop is a reminder that you're never truly alone on these trails…
FWIW, I did not pick those berries.
We found a few places just off the trail where the trees grew tall, but bare except for their tops. It was like being in a storybook world.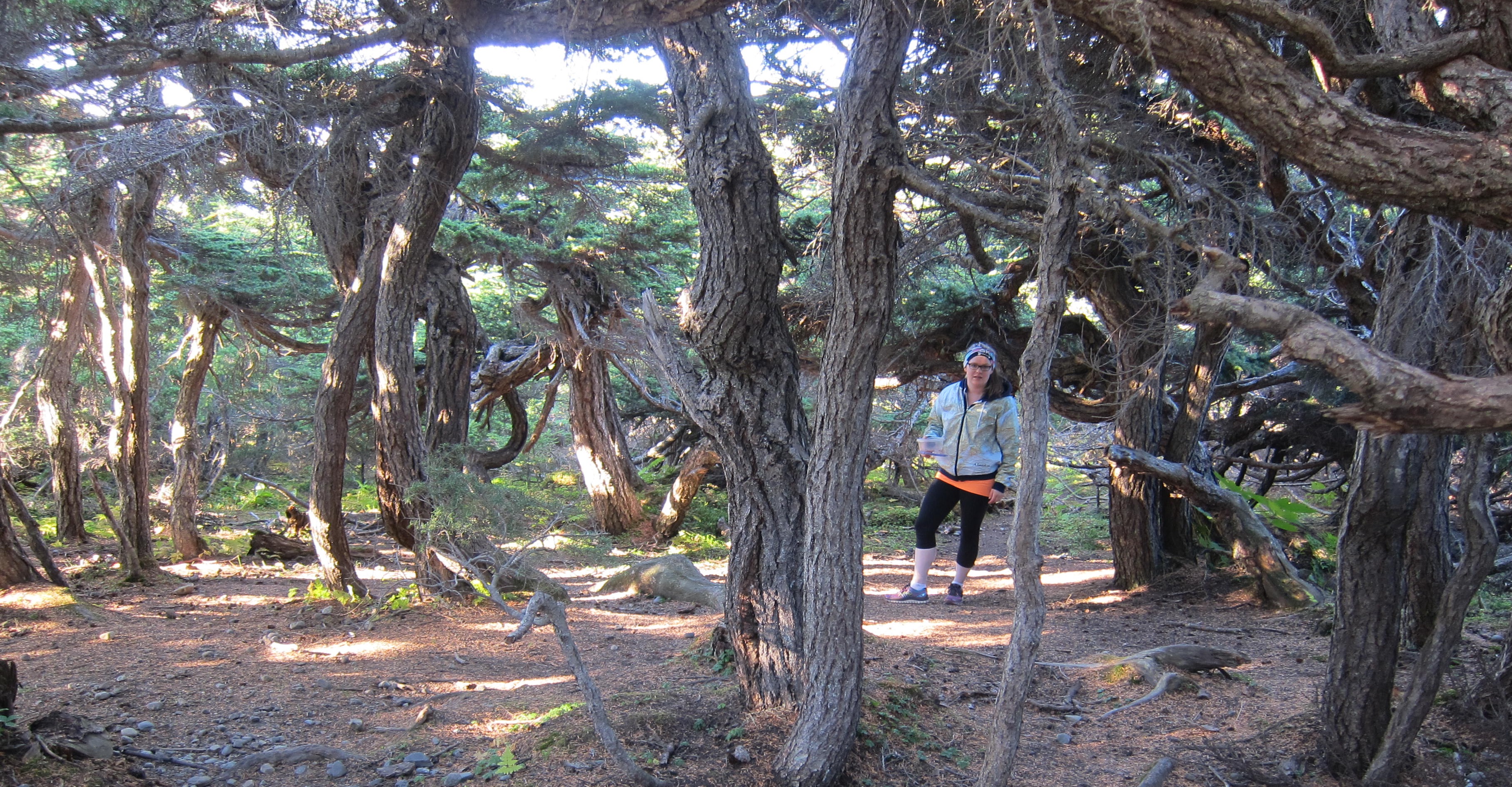 These areas sheltered by trees seemed to be the prime spot for what we identified as lowbush cranberries. We definitely ate a lot of these red berries, and they tasted amazing, but there were plenty of jokes about the book/movie "Into The Wild." (Spoiler alert – the main character dies in Alaska from eating wild berries he misidentifies as edible.)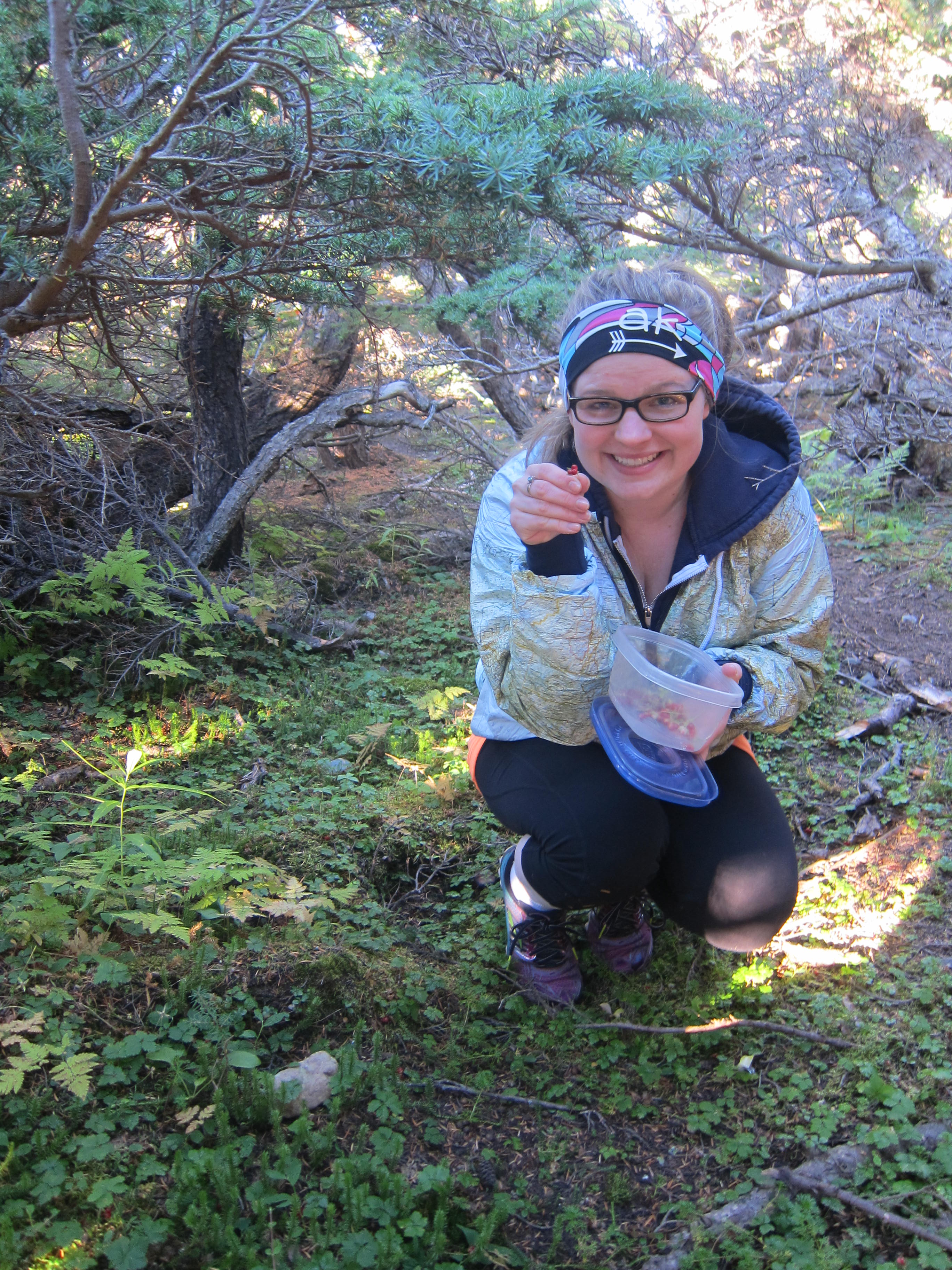 The Flattop trail area is one of my favorite places to hike. From the time we left our homes to the time we returned, we were gone 3 hours total. Because it's right in Anchorage, it's the perfect place to go for a light after-work hike or just a quick escape.
Or if you want a physically demanding day trip, Flattop has some really challenging longer trails, too.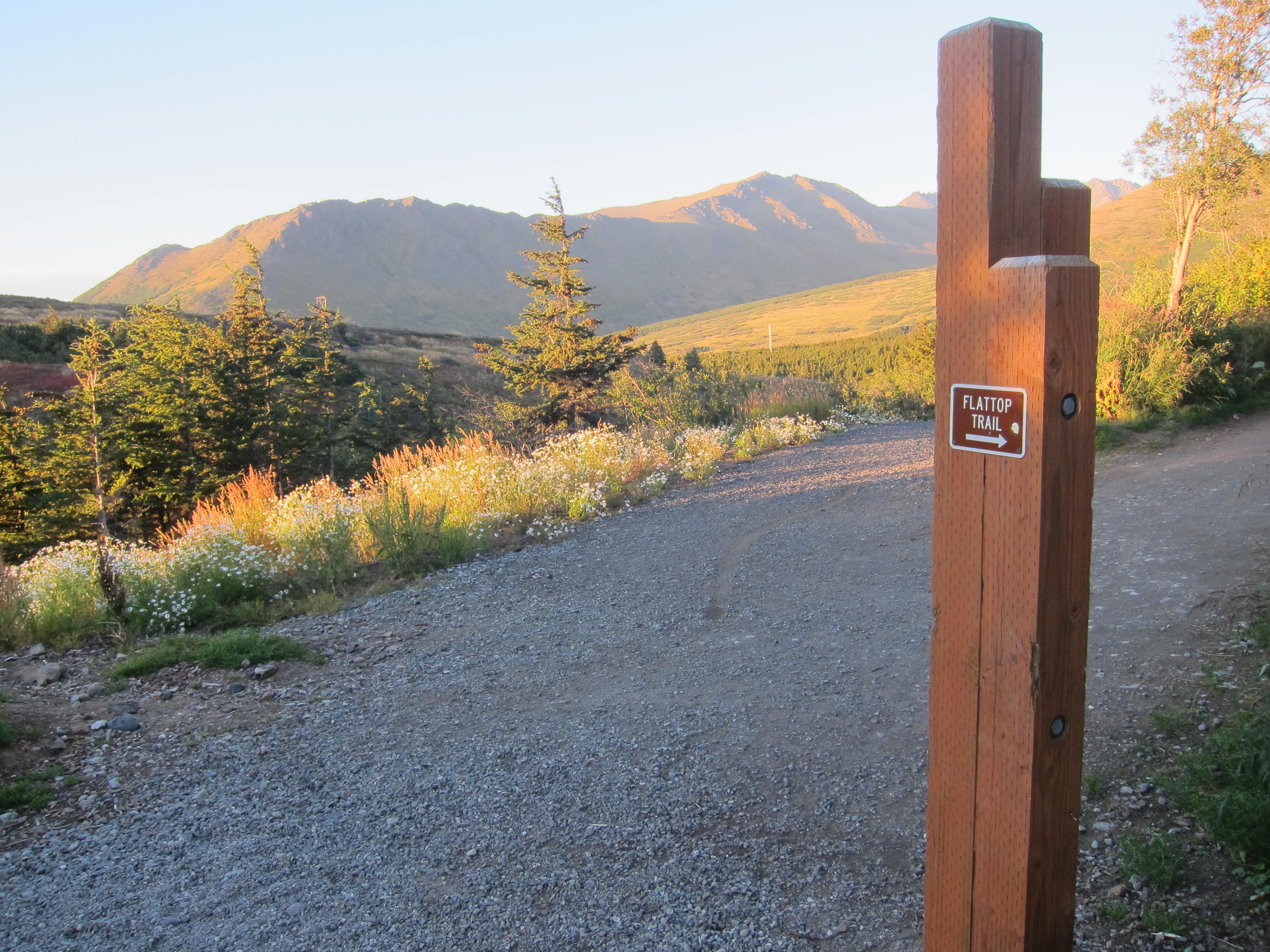 If you're visiting Anchorage in the fall, you have to go check out the Flattop hiking trails. Picking wild growing berries as the base of a mountain, enjoying hours of extra daylight from the late-setting sun, finding piles of moose poop (and hey, maybe even the moose itself) – that's about as Alaskan as it gets.
And aside from a $5 parking fee, it's totally free.
Just don't forget your blueberry collecting bucket. ;)