While clearing out the freezer, I found a few frozen packages of last year's backyard rhubarb harvest.
After making this rhubarb berry jam and sharing with a few friends, the reviews I got ranged from "This tastes like a fruit roll-up!" to "I'm going to dump this on vanilla ice cream and eat it with a spoon." I took this as a hint that I should share my recipe…
I love making jams – once you get down the basics, they're so easy to make and preserve.
(Even though I used frozen rhubarb for this recipe, if you're lucky enough to be making this recipe during rhubarb season, click here to see a tutorial on how to properly harvest fresh rhubarb.)
I make jams hippie-style: toss fruit & sugar in a sauce pan, then simmer until it's the consistency you want. That's it. No added pectin or preservatives needed.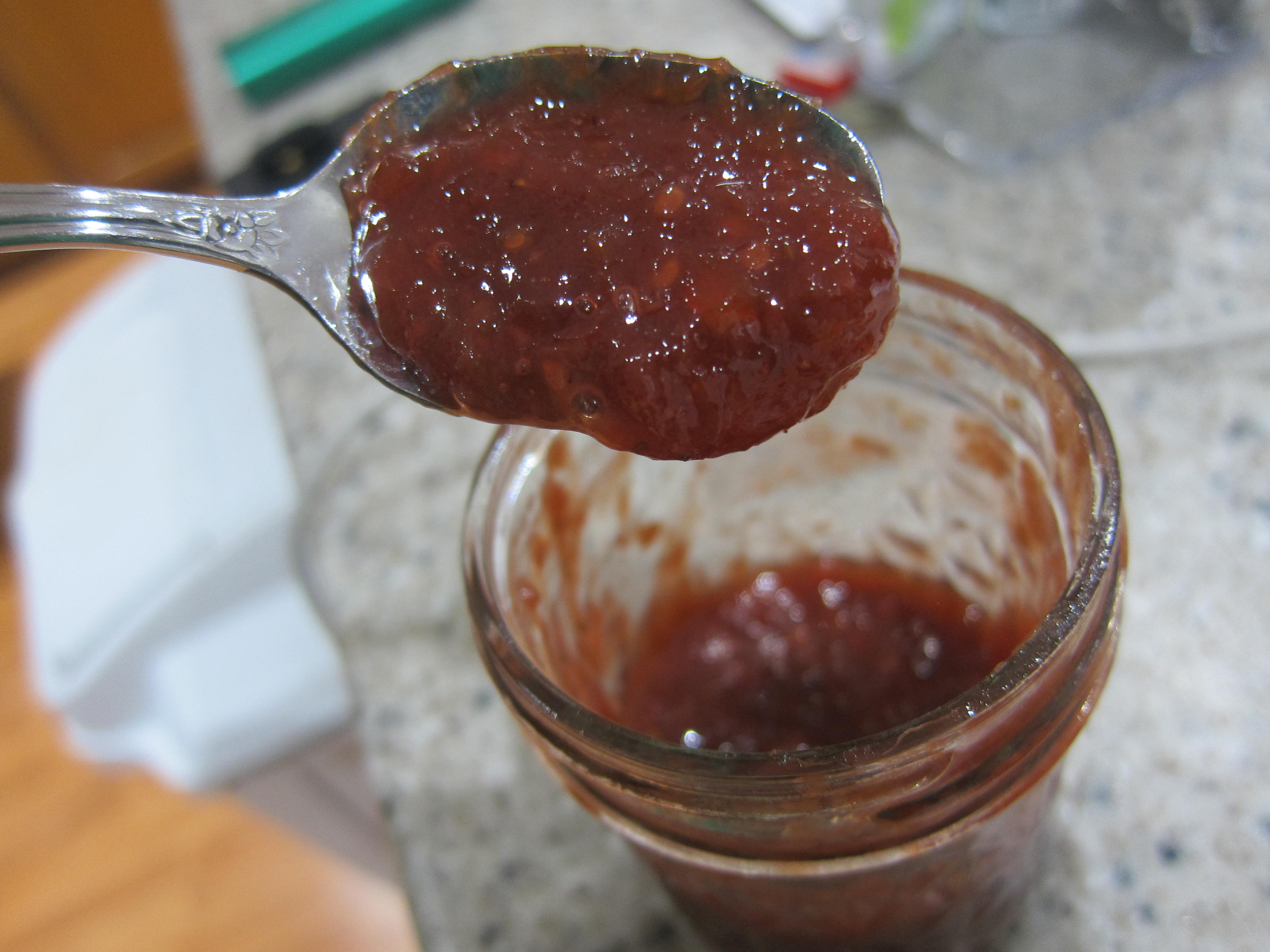 Rhubarb Berry Jam Recipe Ingredients:
Makes 5 x 8-oz jelly jars (I generally use this product: Ball Canning Regular Mouth Half Pint Canning Jar 8 oz. 12-Count
)
4 cups diced rhubarb (mine was frozen, but I bet fresh works just as well)
3 cups fresh strawberries, diced
1 cup fresh raspberries
1 TBL lemon juice
1 cup honey
1 1/2 cups raw sugar
Put everything in a sauce pan and simmer on low heat for about an hour, stirring occasionally.
Since you're cooking the raspberries, strawberries and rhubarb for awhile, there's no need to dice the fruit very well. It will all break down eventually as it stays over heat.
Once the mixture starts thickening a little, put a few drops on a plate and let it cool. Once the sample drops are room temperature, check the consistency of the jam. If it's a good texture, take the pan off heat. If it's still runny, you can either stop simmering and call it pancake syrup, or continue simmering to cook off more moisture.
That's it. When the rhubarb berry jam is done cooking, you can pour it in jars and seal it with the water bath method (no pressure canner is needed for high sugar jams) or enjoy it right away. :)