On a gorgeous Saturday afternoon in February, my friend C.j., her pups & I put on our winter gear and drove out to Eklutna Lake for a winter hike.
Getting to Eklutna Lake in Alaska
From Anchorage to the Eklutna Lake campground and hiking trail parking lot, it's about an hour drive. Driving  Alaska Highway 1 North (coming from Anchorage), take the Eklutna exit, then an immediate right toward Eklutna Lake. You'll stay on Eklutna Lake Road for about 10 miles, which takes longer than you'd think because the road is windy and forested.
It's a pay parking lot ($5 for one day), but this state park location doesn't have the credit card machines, so make sure to bring $5 cash with you, per vehicle.
Hiking Eklutna Lake in the Winter
Not far from the parking lot trail head, we came across a sign warning us that Eklutna Lake was an avalanche area. To the right of this sign, there was a path that went up to the lake shore.
(Yep – that's me with a can of bear mace poking out of my pocket. As you'll notice, I'm pretty intimidating.)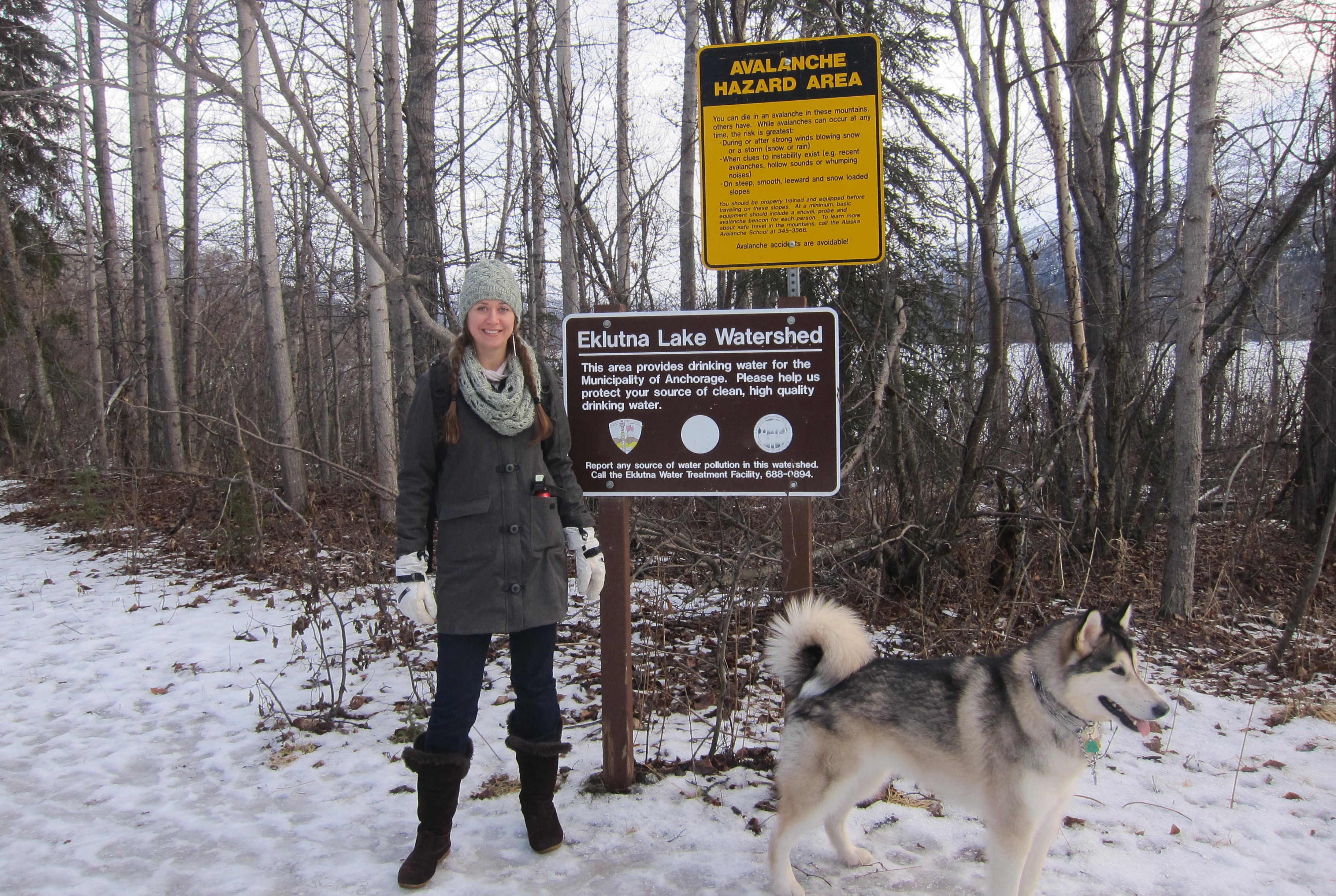 There was a downed tree that had fallen over the trail, so we got to play ice limbo. All of the trails were icy, so we had to be careful.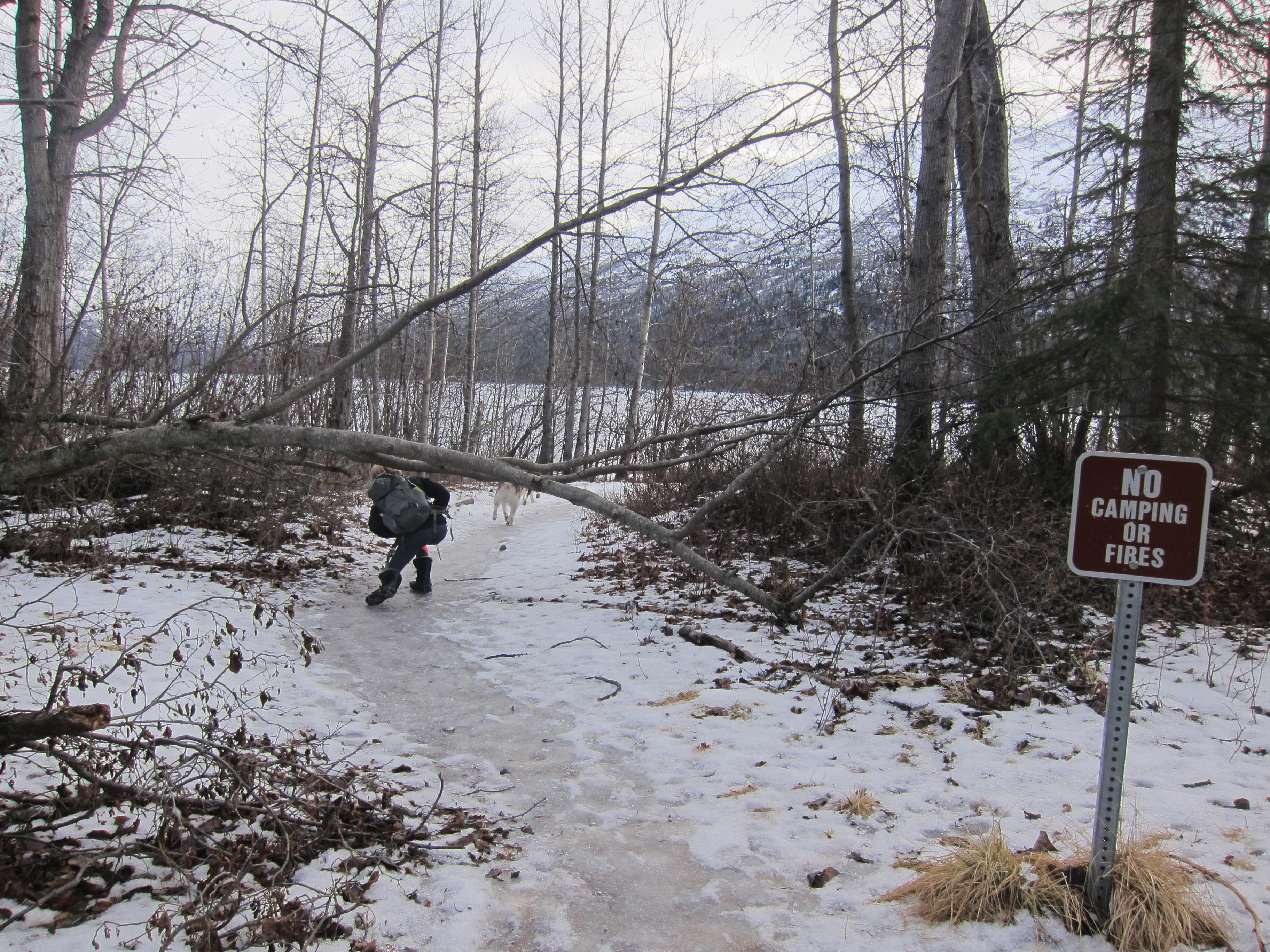 Standing out by the lake, we had a nearly 360-degree view on mountains. There were a few other people and dogs running around across the lake, but the area is so large & open, they were just ants in the distance.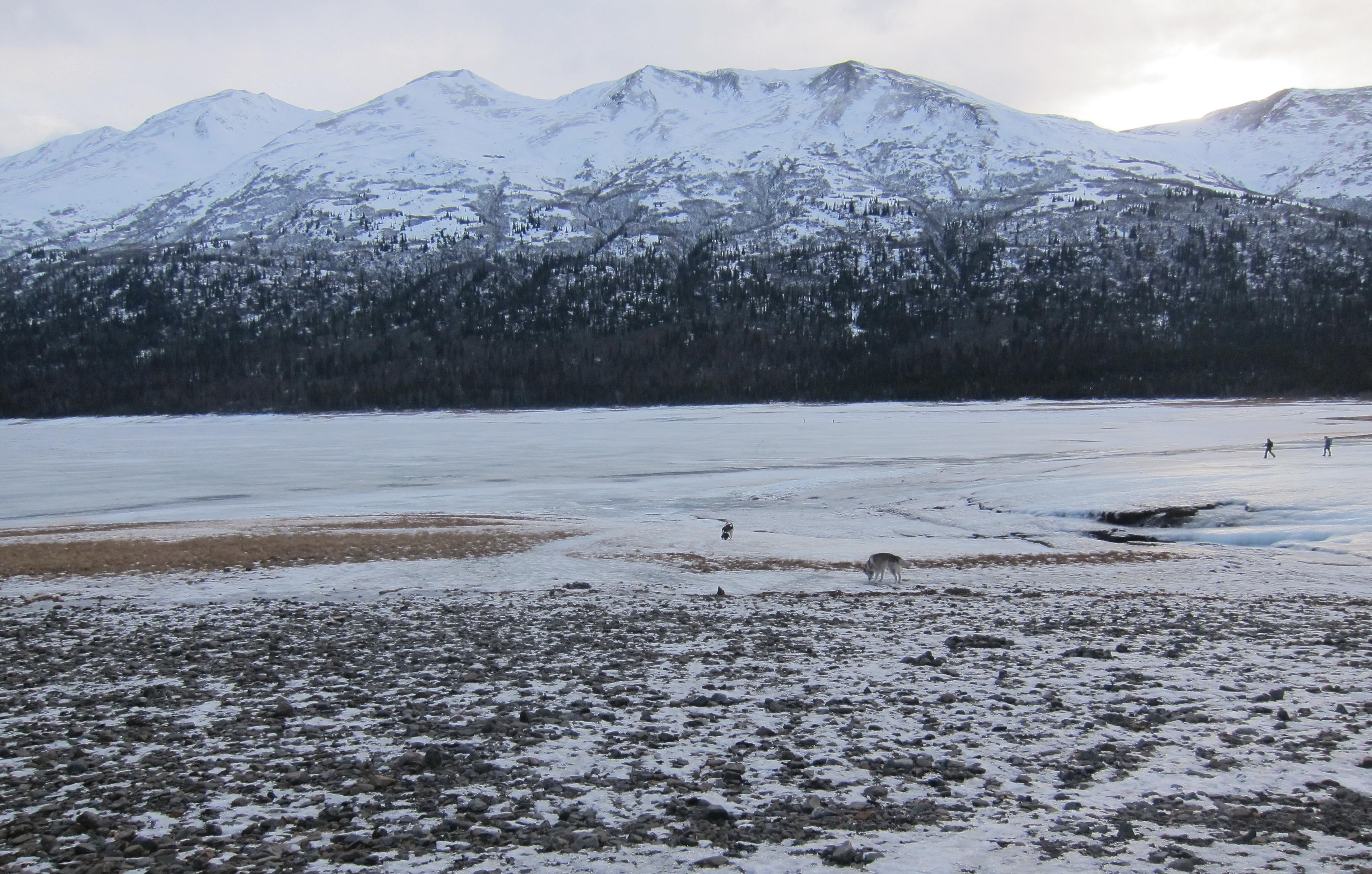 The shore was covered in pebbles, rocks and chunks of ice. It wasn't a fine, sandy lake shore beach. It's a rough & tough Alaska lake.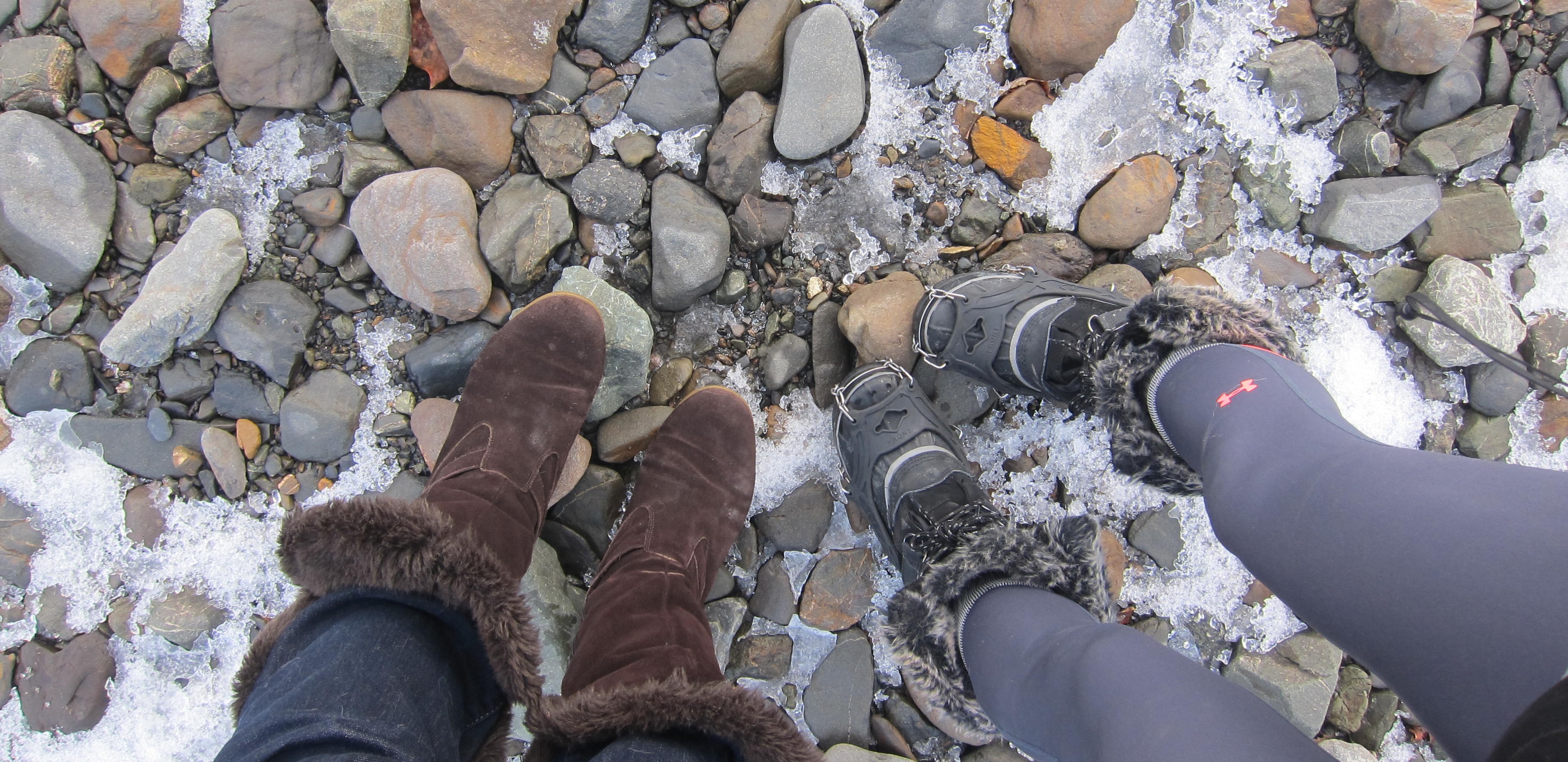 The dogs had fun running around, slipping & sliding across the ice. Here's a 44-second video of us playing on the ice. In the video clip, I do a full spin so you can take in all of the mountains and scenery. Just amazing.
It was a beautiful day – about 40 degrees F. Slightly cloudy, but still perfect hiking weather. C.j.'s bum got wet from sitting on the frozen lake shelf, but it was a must-take sort of photo op!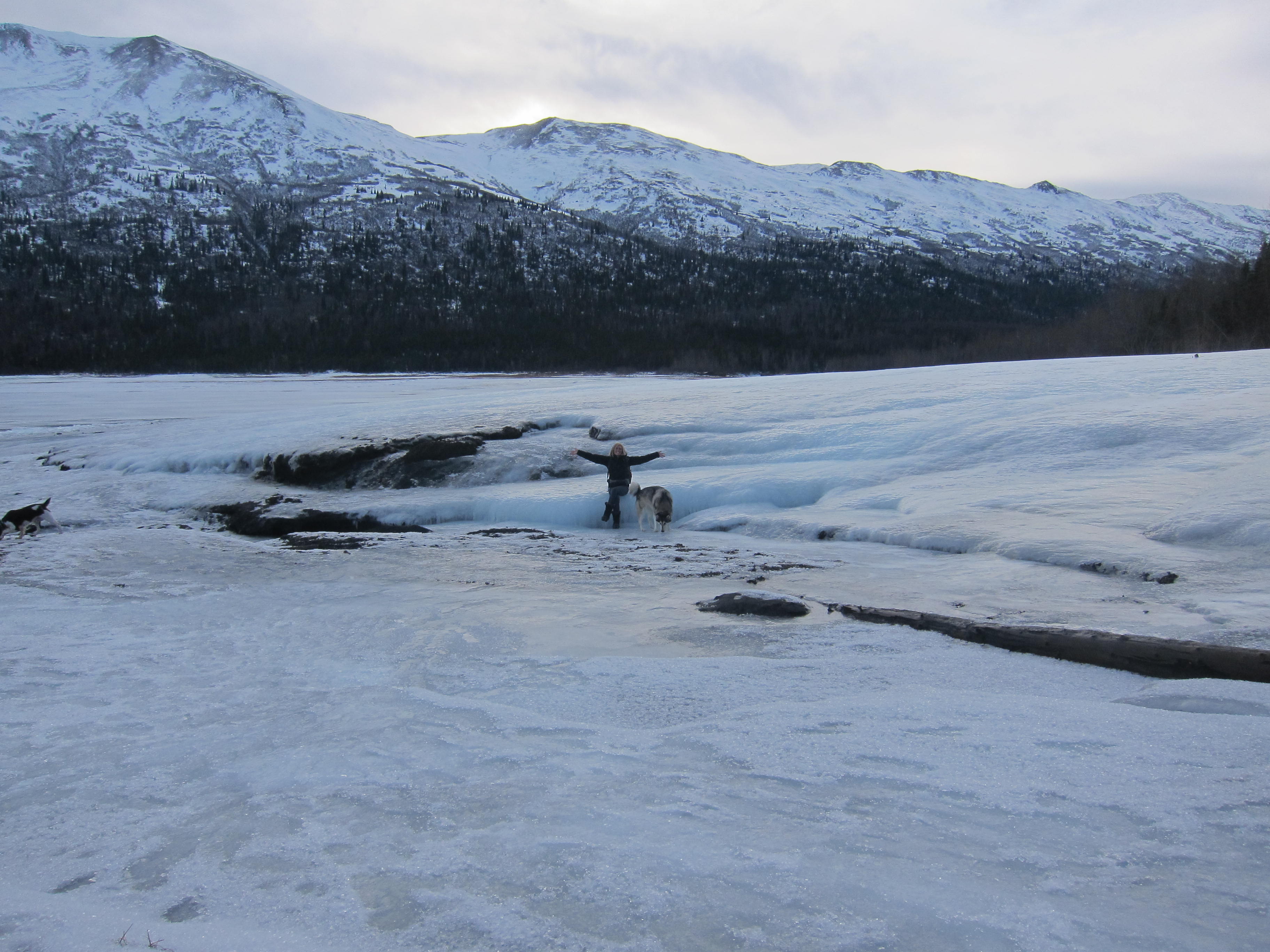 Eklutna lake was frozen solid, except one patch of shallow ice we found. You could see the rocks on the lake bottom and hear the running water, racing around under the ice.
After getting our fill of exploring the frozen lake, we walked back up to the trails. Here's a photo of us facing the forest, with Eklutna Lake and the endless mountains to our backs.
Photo credit on the picture below goes to C.j. :)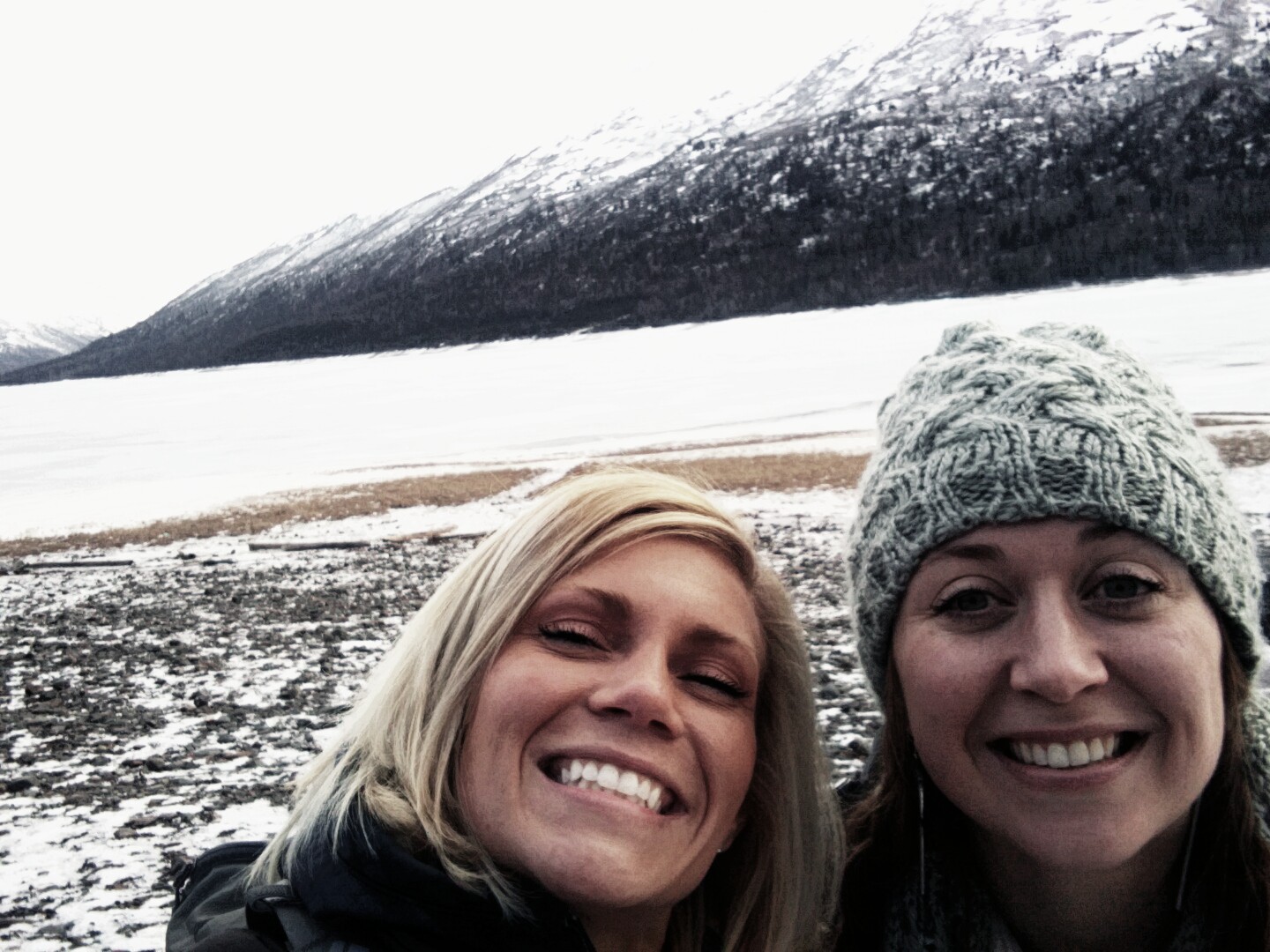 The trails were a sheet of ice. We didn't last long before it was tiresome walking on ice Once we hiked down the Eklutna Lakeside Trail for about half a mile, we stopped for a few minutes for a water and berry-flavored cigar break. 'Cause that's how C.j. rolls.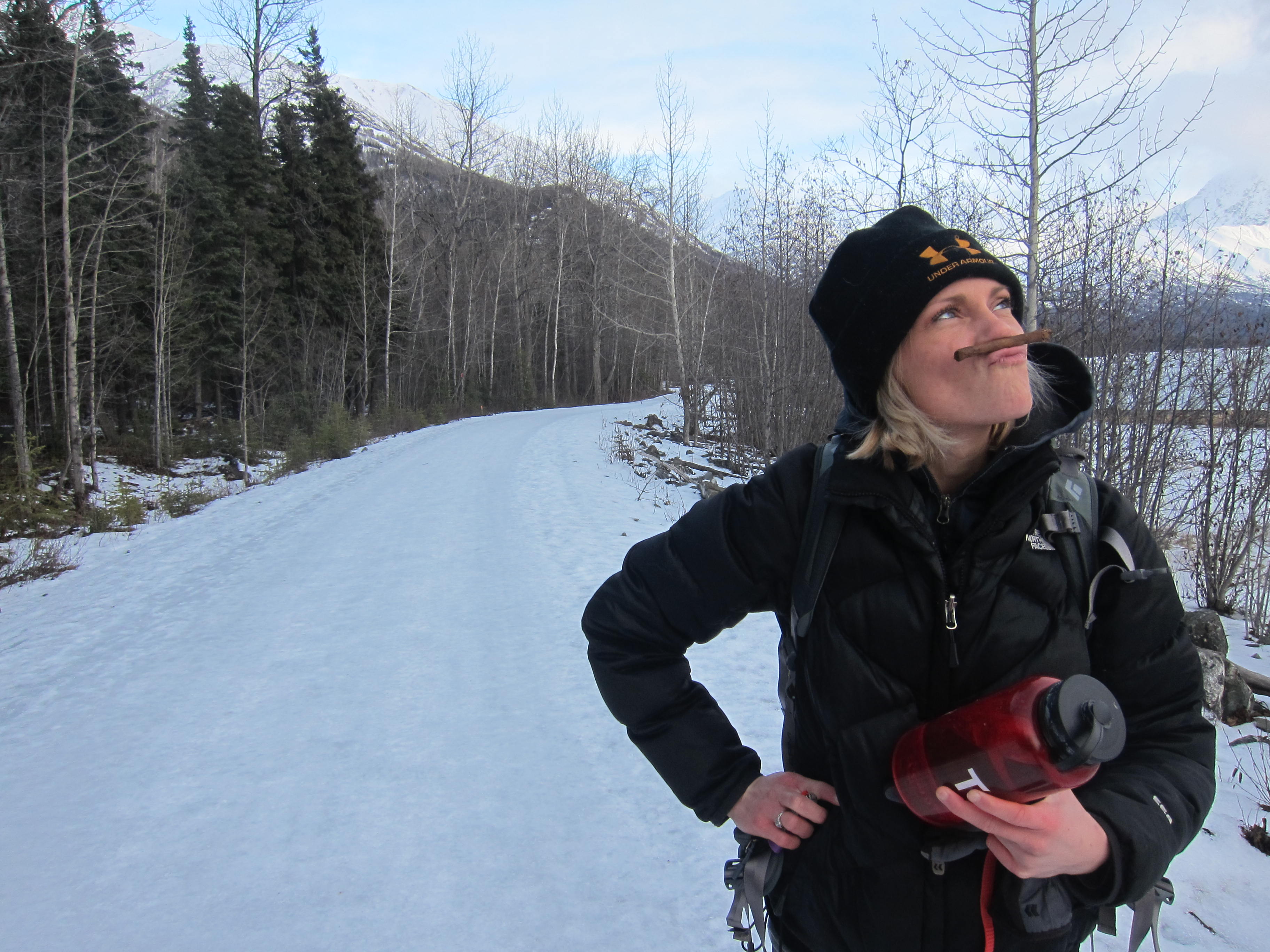 At day's end, we walked just under 2 miles and spent 2 hours near Eklutna Lake taking pictures, talking, walking and exploring.
Alaska has had an unseasonably warm winter, so everything that normally would be snow was a layer of slick ice. Still, it was a great way to spend a February afternoon. We would definitely go back again.